User cannot share webcam in the meeting
There are a few issues that may prevent a user from sharing their webcam.
This article is written for the IT support agent diagnosing common webcam issues.
1. Unable to find available webcams
When the user clicks to share their webcam, the browser will first search for available webcams.
If none are available, you will see a NotReadableError: Could not start video source message.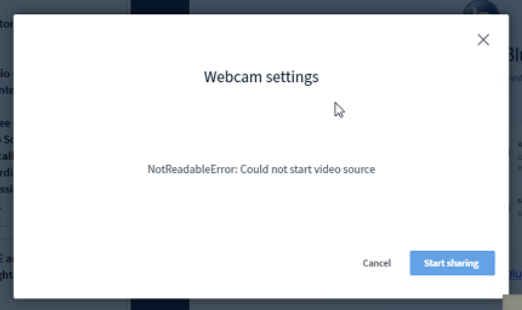 This error is caused when there are no available webcam sources.  The reasons for this are
Another application (such as skype) is using the webcam and won't release it
You have an older version of ManyCam installed (Windows 10)
First, if you have ManyCam installed, upgrade it to the latest version.
Second, restart your computer.  This clears any access to you webcam so that the browser can access it.
2. Permission not granted to share webcam
Before a user can share their the webcam, the browser will ask for permission to access the user's webcam.
If the user didn't grant permission, there will be webcam icon on the browser's tool bar with a '/' through it.  Click that icon will give the user another change to grant permissions (a refresh of the page may be needed).
3. Establish Connection
If there is an error accessing the server, the user will get Error 1020: media could not reach the server.  Have them try a quick test with
https://test.bigbluebutton.org/
This will test on a completely different server.
If they are unable to share webcam in both the BigBlueButton session and the Scout Classroom, then the issue is likely on their browser, computer, or firewall.
Try
Have them switch between FireFox or Chrome (sometimes one works and the other does not)
If possible, have them set up a wireless hotspot with their phone and try the above test server again.  This will keep everything the same, but use a different network path.